Podcast hospitality has increased significantly in the past few years, with more than 29.5% since 2018.
In fact, there is room for every industry in the podcast world, whether we refer to hospitality podcasts for hotel managers and executives, conversational interviews, and the like.
Beyond being a form of entertainment, podcasts are a vast source of information for industry professionals around the world.
With the hospitality industry changing constantly, the customer's requirements and preferences grow regularly; thus, staying on top of those changes is vital to being successful.
As such, more and more hospitality podcasts are taking the world by storm to help hospitality professionals improve their businesses.
Advantages of Listening to Hospitality Podcast Interviews
Between reading a text and listening to an audio format, most people choose podcasts for both comfort and time.
While putting behind the scenes the experts who would rather keep a low profile, through podcasts, they can easily share their knowledge, experiences, and information they know best in the world of hospitality.
A recent study proves podcasts stimulate mental imagery more than reading or watching, mainly because listeners have to pay more attention.
Those who listen to podcasts regularly tend to have a more vital and vivid imagination. In addition, listeners get hooked on podcasts due to their various formats.
All hospitality marketers must keep vigilance on tech innovation and advancements.
Thus, listening to podcast hospitality will help hotel managers, executives, or CEOs build brand strategies to ensure they are constantly connected and relevant to their ever-evolving customers.
Separately, hospitality podcasts explore the most exciting topics in the hospitality industry, aiming to help listeners innovate in the hospitality sector, technological developments, and sales marketing.
Listening to hospitality podcasts brings a lot of advantages, from tricks and tips to navigating the hotel industry to rise to the top to op-eds on the hospitality marketplace or advice on building sustainable and consistent sales.
If you want to handle the altering world of the hotel industry or keep yourself posted with the latest trends, listening to the hospitality and marketing podcast would be in your best interest.
Top 13 Best Hospitality Podcasts for Hoteliers
In a world where time is valuable, listening to podcasts from the industry-leaders may help you manage your busy schedule while expanding your expertise and knowledge.
#1. The Lodging Leader Podcast Hospitality
The Lodging Leader Podcast is hosted by Jon Albano, the founder, and CEO of LodgingMetrics.
His 13 years of experience within the hospitality industry had him successfully creating impressive coverage on the scope of hospitality's latest topics and trends.
Exploring diverse themes to share engaging stories, the award-winning weekly podcast discusses current issues impacting the hospitality industry, all being amplified by interviews with industry experts and leaders.
Jon Albano's recent podcasts highlight the importance of a hotel design (having Hotel Impossible's Blanche Garcia as a special guest) and the necessity of creating accountable teams.
#2. Slick Talk | The Hospitality Podcast
Hosted by Will Slickers, he calls his podcast "the one destination for all things hospitality."
Slick Talk accentuates the ins and outs of hotels and discusses other hospitality industry topics.
Slickers' hospitality podcasts contain valuable information for those working in the travel industry or own restaurants and vacation rentals.
Once a month, he welcomes special guests on his morning show, "The Good Morning Hospitality," to discuss the latest hospitality news.
#3. The Boost Hospitality Podcast
Mark Simpson has a lot of ideas and secrets to share. Thus, if you are looking to increase your global hotel revenue this year, The Boost Hospitality Podcast will teach you the secrets of improving the direct boosting of your hotel, restaurant, or guest house.
With a growing focus on the services accommodation success, these podcast episodes have the capacity to both educate and entertain.
#4. All in The Industry
The All in The Industry podcast is hosted by Shari Bayer, the owner of Bayer Public Relationship. Throughout the podcast's episodes, Shari explores the behind-the-scenes of the hospitality world.
Hospitality professionals and experts of all sizes gather to offer hospitality insider information and the latest news for those on the hotel market.
Every episode starts with a PR tip, followed by a speed round game, an update on the latest hospitality news, and a short story.
To wrap the episode of her podcast, Shari Bayer asks the guest a question that the previous guest suggested.
#5. Never Checkout
Nevercheckout.com is relatively a new podcast on the hospitality market but promises a lot.
Hosted by Sjors Brul, the CEO of Sbit-Hospitality, the podcast aims to cover current trends in the hospitality industry, online marketing, and the digital era.
Brul's 20 years of experience in the fast-growing digital world has allowed him to provide excellent customer service and meaningful experiences to guests and employees.
Now he's looking to share his expertise, knowledge, and insights into the technology solutions so that hotel owners, managers, or executives can use them to turn their hotels into successful businesses.
#6. Turn of Events Podcast
Bringing you the latest trends and news in event management, the Turn of Events podcast is the ideal solution for those looking to absorb insights rather than read them.
The podcast's primary goal is to share takeaways so you can implement them to get better results for your hotel, venue marketing, and operations efforts.
The "how-to" format of the hospitality podcasts makes listening easier during downtimes while helping get more leads and grow your group sales.
#7. Podcast Hospitality Hangout
To better understand how the worlds of technology and hospitality connect, listen to Michael Schatzberg Schatzy and Jimmy Frischling's podcast.
Exploring the idea of "branded strategic hospitality," the hospitality podcasts brings a group of experienced CEOs, travel experts, technology pioneers, or even restauranteurs to share thoughts about hospitality innovations or exciting trends.
#8. Suite Spot: A Hotel Marketing Podcast
Produced by Travel Media Group twice a month, the "Suite Spot: A Hotel Marketing Podcast" brings industry leaders together so they can discuss and share developing and exciting trends in the inner workings of the hospitality industry, marketing, and social media.
Ryan Embree hosts the hospitality podcast and constantly asks marketing professionals to share their knowledge and expertise in the impact of online searches, hotel content marketing, and leveraging reviews.
Embree says he created the podcast to help hoteliers be more competitive in the business while getting assistance with online marketing strategies.
#9. Book Greener
According to Forbes, more than 25% of Americans are now consciously trying to take into account eco-friendly solutions for their hotel stays.
In addition, 85% of those who invest in eco-friendly travel feel more positive; thus, they lead to good reviews.
As of today, green hotels have become an exciting commodity in the world of hospitality, bringing serious revenue to the table.
As such, Book Greener caters to this eco-friendly trend by diving into the most valuable insights from industry leaders, hotel owners, and managers.
Environmental sustainability has slowly become a standard in the consumer's mindset around the world, so if you are interested in making your hotel greener, you may want to consider this podcast.
#10. Hospitality Academy
Susan Pannozzo hosts the Hospitality Academy podcast, where she fully displays her 30 years of experience in the hospitality industry.
From the front desk to general managers, Pannozzo has worked at all levels of hotel operation, so she brings relevant information to those looking to improve their hospitality operations.
Pannazzo interviews industry experts and leaders in the show's episodes about profitability, training, guest experience, and the like.
Additionally, her topics navigate the hotel industry from different points of view, explaining how one should handle demanding customers, or sharing tips on memorising the hotel rooms and guest names.
#11. Fuel Hotel Marketing Podcast
The Fuel Hotel Marketing Podcast is one of the top podcasts in the hospitality market, specialising in marketing and the hotel industry.
The host, Stuart Butler, works with a group of hotel marketers to share practical, new-to-date tips that hospitality leaders and experts can use to market their hotels better.
The podcast's primary goal is to help hotel owners and managers get more customers in their rooms while reducing their reliance on OTAs.
The weekly episodes bring various topics to the table, including VR, cryptocurrency, and mobile consumer behaviour.
#12. InterContinental Stories
This hospitality podcast is a challenging take on the hotel industry, as it looks at where hotels fit into local cultures.
What initially started in conjunction with the recent global marketing campaign, it has now been established as a brand in creating stunning stories and experiences within the world of hospitality.
Their growing focus on implementing local elements has turned InterContinental Stories into the experts' attention, as it's diving into the minutiae of the local hospitality industry.
#13. Marriott's Behind the Design Podcast
With Behind the Design, Marriott Traveler tries to capitalise on all the content marketing opportunities available in the hospitality market.
In every episode, the host dives into the unknown world of hotel design, all the while providing relevant information in a conversational format that it's easy for everyone to listen to.
The hospitality podcasts offer unique, never-heard-before insights on why design is vital for hotels or why some hotels are designed the way they are.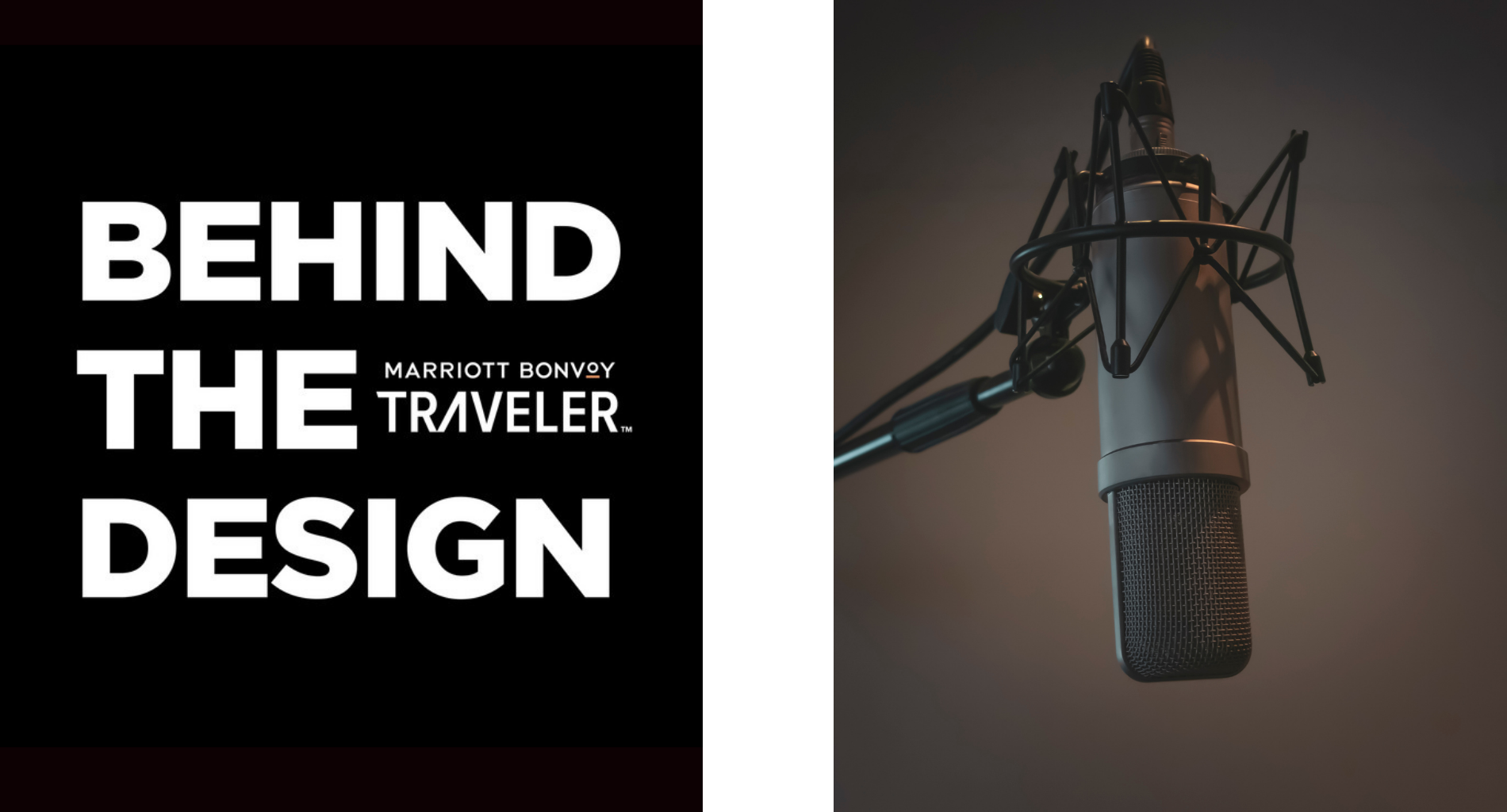 The Podcast Hospitality Industry & Its Utmost Objective
Hospitality podcasts have surprised the world, but only to get fast insights on what's happening in the hospitality industry and learn how it works.
Additionally, they offer the opportunity of hearing what the technology and hospitality's future may hold.
The utmost objective of the hospitality industry is customer satisfaction, so as a hotel manager or executive, you must ensure that your customer's happiness drives all your services.
According to the Hospitality Global Market Report 2022, the global hospitality market is expected to grow from $3,952.87 billion in 2021 to $4,548.42 billion in 2022 at a compound annual growth rate (CAGR) of 15.1%.
The vast hospitality industry includes lodging, event planning, food and drink services, travel and tourism, and theme parks.
Being relieved upon experts and leaders all over the world to share experiences and services, the hospitality industry is meant to make people comfortable and happy altogether.
Put simply, the hospitality industry translates as a large variety of businesses and services that are constantly linked to customer satisfaction and leisure, focusing on ideas of pleasure, luxury, and unforgettable experiences.
That means that it's vital for businesses operating in the world of hospitality to keep up with the latest hospitality trends at all times, or they may risk being left behind.
As a traveller, it is both comforting and exciting to know that you can stay in a hotel once you arrive at your destination and be able to enjoy the food when you're set on a new journey.
FAQs on Hospitality
What trends are currently available in the podcast hospitality industry?
The biggest trends are sustainable hotels, intelligent hotels, virtual and augmented reality, robot staff, and unique brand experiences.
In addition, trends in the hotel industry include the sharing economy, online travel agents (OTAs), global tourism, digital guest experiences, social media, and young markets.
Separately, the most important tech trends in the hospitality market are voice technology, drone technology, demand for flexible check-in and check-out, new payment methods, artificial intelligence, and distribution tech.
What significant challenges is the hospitality industry facing?
For starters, the hospitality industry faces the threat of climate change, as it impacts most tourist destinations.
Threats may result from climate change, security, and safety issues, and unfortunately, the biggest challenge for the hospitality industry is the lack of predictability or the magnitude of such events.
Other challenges the hospitality industry may face are the new competition from tech and digital players and the skilled talent shortage.
What are customer needs in the hospitality industry?
No other industry relies that much on customer service than the hospitality industry.
As guest experiences are always unforgettable, hotels must know customers are looking for a comfortable bed, great shower, high-speed internet connection, clean and tidy room, and complimentary toiletries.
What comes above is a plus, such as proximity to business meetings or key attractions and great views.
What is the role of hospitality in the hotel industry?
Generally, the hotel industry provides accommodation services to travellers and tourists.
On the other hand, hospitality's primary goal is to serve people while reflecting consistent quality and excellence.
Overall, the scope of the hospitality industry comprises various businesses that offer services and facilities such as entertainment, food and beverage, accommodation, gaming, or other related products.
What is a smart hotel?
A smart hotel is a hotel that uses internet-connected devices capable of communicating or interacting with each other.
They are often referred to as the Internet of Things (loT), meaning that every ordinary appliance or device can receive and send data.